Too funny to see these ads.
From Audi, BMW and Subaru.
These are a little ironical ads.

Troppo divertenti queste publicita.
Di Audi, BMW e Subaru.
Queste sono alquanto ironiche, ma immagino che quella era l'idea.

Muy divertidas estas Publicidades.
De Audi, BMW y Subaru.
Un poco ironicas, pero me imajino que esa era la idea.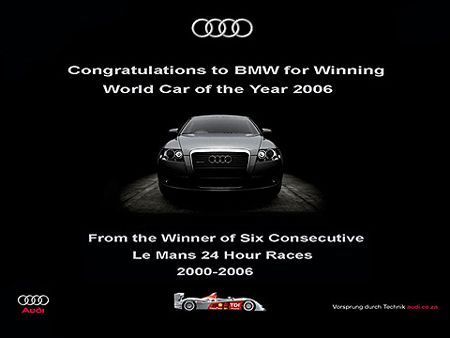 Congratulations to BMW for Winning "World Car of the Year 2006″
From the Winner of Six Consecutive "Le Mans 24 Hour Races 2000-2006″

Congratulazioni a BMW per Vincere "Miglior Macchina Modiale del 2006″
Da il Vincitore per Sei Volte Consecutive "Le Mans 24 Ore 2000-2006″

Congratulaciones a BMW por Vencer "Mejor Carro Mundial del 2006″
De el Vencedor por Seis Veces Consecutivas "Le Mans 24 Horas 2000-2006″