3 October
International Day Against DRM
Today is 3 October, International day Against DRM, (the sistem of restrictions over multimedial files. Even if they have Copyright or Copyleft).
Today there will be around 200 actions all over the world, to protest agains DRM, and to protect the rigthsd of the users, and their privacy.
There are many actions, some of them are public protest, distribution of stikers (Thanks oRi0n), and posters.
If you want to join the cause in this day, you can looking the official list, or you can do it in the Free Software Foundation site (FSF), or you can add one image in your Blog, or in your site, o simply, you can stamp them.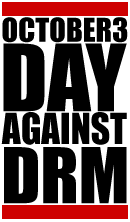 The most famous companies that support the DRM are, Sony, iTunes, SpiralFrog, and the new entry, Zune.
However, you can buy music, ebooks and movies in another better thinked way, using other companies.
Official Site: Defective by Design.org



3 Ottobre
Giorno Mondiale Contro il DRM
Oggi 3 Ottobre e' il Giorno Internazionale contro il DRM, (il sistema di restrizioni sulle cose multimediali, in difesa dei diritti d'autore. Abbiae Copyright o Copyleft).
Oggi ci sono circa 200 azioni previste in tutto il mondo, per protestare contro il DRM, e proteggere i diritti degli utenti, e della loro riservatezza.
Le azioni sono molte e varie, alcune sono proteste publice, distribuzione di adesivi (Grazie oRi0n), e posters.
Se vuoi supportare la causa in questo giorno, puoi farlo vedendo la lista ufficiale, o puoi farlo nella pagina della Free Software Foundation (FSF), o puoi aggiungere una immagine nel tuo Blog, o nel tuo sito, o semplicemente puoi stamparlo.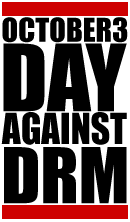 Le compagnie piu famose a favore del DRM, sono la Sony, iTunes, SpiralFrog, ed il nuovo appena arrivato, Zune.
Invece, puoi comprare musica, ebooks e film in una maniera piu sensata, usando alcune compagnie.
Sito Ufficiale: Defective by Design.org



3 Octubre
Día Mundial contra el DRM
Hoy 3 Octubre es el Dia Internacional contra el DRM, (el sistema de restricciones sobre los multimediales, en defensa de los derechos de autor. Tenga Copyright o Copyleft).
Hoy hay alrededor de 200 acciones previstas en todo el mundo, para protestar contra el DRM, y proteger los derechos de los usuarios y de su privacidad.
Las acciones son muchas y varias, algunas son protestas publicas, distribucion de stickers (Gracias oRi0n), y posters.
Si quieres apoyar la organizacion en este dia, puedes hacerlo viendo el listado oficial, o puedes hacerlo en la pagina de la Free Software Foundation (FSF), o puedes colocar una imagen en tu Blog, o en tu sitio, o simplemente printealas.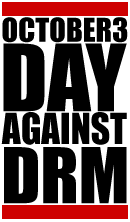 Los mas famosos sostenedores del DRM, se encuentran Sony, iTunes, SpiralFrog y uno apenas llegado, Zune.
En cambio, puedes comprar musica, ebooks, y peliculas de una manera mas sensata, usando algunos proveedores.
Sitio Oficial: Defective by Design.org

Blogalaxia: DRM, Gestion de derechos digitales, Dia Mundial contra el DRM, Copyleft, Copyright, 3 Octubre, Sony, iTunes, Zune, SpiralFrog