Archive for December, 2007
Dopo che tutti stanno parlando di Test Everything!, ho provato un paio di cosine… e sopratutto ho trovato alcuni test interessanti che non li avevo visti o provati prima…
Il primo che ho trovato che mi e' sembrato importante e' McAfee Siteadvisor

via kwout
Una piccola nota, non ho capito perche compare in japponese… comunque
Cosa positiva, sono un sito Verde, OK, Passed… mi piacciono i bollini verdi

via kwout
Secondo loro, aiuta che sono collegato a tanti siti verdi

Continue reading 'tutti test…'
Popuri.us… per aumentare un pochino il vostro (nostro) ego telematico…
Il tutto con due consueti widgets, che non possono mai mancare nelle nuove applicazioni 2.0.

Tanti auguri di buon natale a tutti…
Personalmente il natale non mi piace, ma gli auguri de che possa essere sempre migliore, si fanno sempre…
Speriamo che migliori tutto…
Tanti Auguri…
E con questo vi lascio un regalino…
Dopo aver visto quello di Eddypedro, non ho resistito a non farlo…
Bellissimo Graffiti geek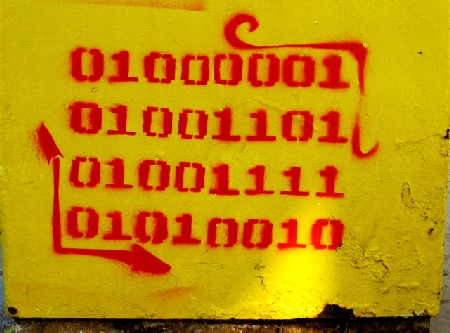 C'e' una bellissima parola… chi la riconosce al volo?
Credo che difficilmente qualcuno la veda a colpo d'occhio…
Continue reading 'Graffiti Geek'
Tutto un successo, come sempre…
Arrivati, io credevo in ritardo, invece, scopro che eravamo tra i primi…
Morendo dal freddo, aspettiamo un secondo ed arriva EddyPedro, decidiamo di entrare. Subito ci troviamo con Cincinnato +1, che ci riceve subito con un bel badge con tutto e disegno del avatar… (troppo bello il gesto).
Meno male che ci credevamo in ritardo… perché passo un po' di tempo, noi abbiamo iniziato a bene, ed a mangiare delle deliziose patatine…
Dopo arriva Nemo +1. Poi piano piano gli altri…
Nel nostro tavolo si sono seduti, Wonderpaolastra, SecondoMe e Bander. Ci siamo messi tutti a chiacchierare e ridere tanto.
Bellissimo Scoop, proprio da paparazzi

Poi, Robie, mi ha dato qualche consiglio, per sfruttare meglio il mio piccolo giocattolo (Grazie caro). Qualche scontro obbiettivo contro obbiettivo con LordZarcon.
Bella serata…
Divertito molto, chiacchierato molto, scattato qualche fotino…
Per una bellissima foto di gruppo, vi consiglio vedere il Resoconto di LordZarcon.
Non vedo l'ora di un'altra cenetta

La virgola puo' cambiare tanto il messaggio in un testo…
Come in questo…
"Se l'uomo sapesse veramente il valore che ha la donna andrebbe per mari e monti alla sua ricerca."
Io un paio d'idee le avrei, e voi? dove mettereste la virgola?
Visto @ Webmaniacos
Dopo aver visto live le contraddizioni Chaviste, e qui ripropongo 2 video, con i sottotitoli, con delle contraddizioni.
Il primo video, risale al 1999

Il secondo, molto comico ed imbarazzante, risale a qualche giorno fa.
Come sempre, la mia umile traduzione, senza accenti, e con qualche orrore ortografico

ENFP - The "Advocate"

ENFPs are introspective, values-oriented, inspiring, social and extremely expressive. They actively send their thoughts and ideas out into the world as a way to bring attention to what they feel to be important, which often has to do with ethics and current events. ENFPs are natural advocates, attracting people to themselves and their cause with excellent people skills, warmth, energy and positivity. ENFPs are described as creative, resourceful, assertive, spontaneous, life-loving, charismatic, passionate and experimental.
Ecco un'altro test, simile a uno che avevo già fatto. Prima ero ENF, adesso sono ENFP, almeno vuol dire che sono simili, o che i test non sballano cosi troppo.
Ho confrontato invece Picture Personality e My VidualDNA, e tra di loro (usano le stesse immagini) ho fatto scelte diverse…
Vorra dire che son cambiato un po'