Archive for the 'Web Sites' Category
GuessTheSpot.com e meno male che il gioco l'hanno fatto loro.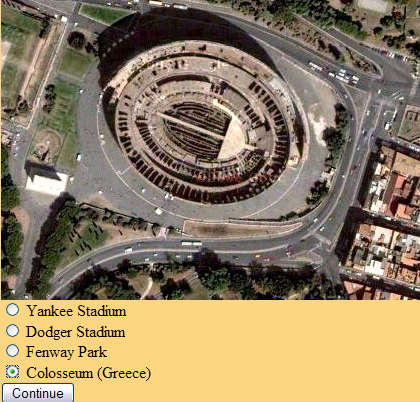 Un po' più di attenzione no?
Dopo che tutti stanno parlando di Test Everything!, ho provato un paio di cosine… e sopratutto ho trovato alcuni test interessanti che non li avevo visti o provati prima…
Il primo che ho trovato che mi e' sembrato importante e' McAfee Siteadvisor

via kwout
Una piccola nota, non ho capito perche compare in japponese… comunque
Cosa positiva, sono un sito Verde, OK, Passed… mi piacciono i bollini verdi

via kwout
Secondo loro, aiuta che sono collegato a tanti siti verdi

Continue reading 'tutti test…'
Popuri.us… per aumentare un pochino il vostro (nostro) ego telematico…
Il tutto con due consueti widgets, che non possono mai mancare nelle nuove applicazioni 2.0.

Chi non conosce The Human Clock? chi non lo conoscesse vada a vedere…
E' un progetto nato nel 2001. E' un orologio fatto con le foto di persone mostrando l'ora…
Adesso loro hanno tirato fuori anche il "The Human Calendar".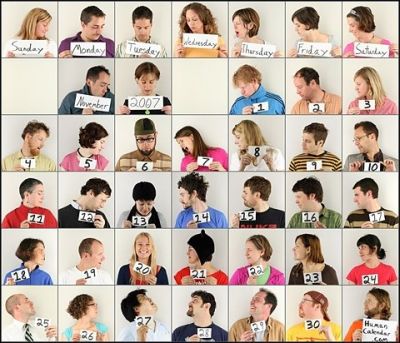 Da notare che tutte le persone guardano il giorno di oggi (20 novembre).
Il calendario e' fatto di forma standar…
E hanno fatto pure una versione portatile, la quale ti permette di usare loro per il tuo sito, o qualsiasi parte tu voglia mostrare la data…

Con varie opzioni.
Visto @ Microsiervos
Ieri avevo letto in un blog Italiano di Twitter Poster. Questa notte leggo che anche su catepol che si continua a parlare di Twitter Poster.
Sembra che dopo tanto parlare… eccolo…
Twitter Poster degli Italiani.




Complimenti per Blublog

755 followers.
Questo e' un simpatico quiz, appena fatto (e sono ancora addormentato)
Molto simpatici i disegni

Si… questo Blog, anzi, il mio dominio

oggi ha compiuto 2 anni…
Il Blog, veramente l'ho iniziato a Settembre del 2005… con il primo post, che veramente e' stato scritto il 4 settembre…
Piano piano, iniziando con il bloggin… devo dire che ho scoperto un mondo nuovo… tante cose da imparare, tante tools, programmi, sistemi, persone, siti, ranking… troppe cose, ma le ho scoperto, e mi hanno affascinato…
Piano piano, spero poter migliorare, scrivere meglio, più accenti ;), e poter diventare, un migglior Blogger e una migliore persona…
Scrivere, ed anche leggere, e' molto interessante, e ti fa conoscere persone nuove, anche se li conosci con pochi tratti dei loro carattere, ma che comunque si condividono molte cose insieme…
In questi 2 anni, con alti e bassi, mi sono divertito a scrivere…
E spero di continuare a divertirmi scrivendo, e leggendo

Grazie a tutti quelli che mi leggono e mi commentano… e anche a chi non

Poco meno di una settimana fa, Daniele Salamina, ha creato un concorso facile facile… dove le prime 90 persone che parleranno del "Contest: Daniele Salamina Ti Regala… La Puglia", sui propri blog, entro il 21 settembre, potranno partecipare all'estrazione di vari premi.
Tutti prodotti tipici della "Puglia"
Per maggiori informazioni leggere il post Ufficiale @ Daniele Salamina.