Archive for September, 2007
2.3, molto meglio, diciamo che dal 2.0 che stavo usando, ha fatto un grande salto di qualità… sono soddisfatto da questo punto di vista.
Prima avevo un Theme modificato del 2K (era a tre colonne). Adesso con il K2.0 Release Candidate 1, che supporta perfettamente 3 colonne (ho fatto dei piccoli cambiamenti css per quanto riguarda la disposizione delle colonne), ed il nuovo 2K Sidebar Manager e' magnifico.
La forma grafica del sito, cambierà di poco… sinceramente mi piace molto com'era, e mi piace questa semplicita di colori e disposizioni. Proverò a renderla più accessibile.
Devo rimettere alcuni plugin, altri non li userò più, e ci saranno nuovi.
* Per adesso, oltre al super Akismet, ci sono pochi plugin.
* Il random header che usavo, il K2, lo ha di nativo (perfetto).
* Ultima versione del Google XML Sitemap, anche se non riesco ancora a fare (ci sono già, ma non mi funzionano) parser per il xml, cosi da fare una pagina dedicata al Sitemap… va beh, alcun giorno continuerò a provare.
* Related Entries, fa sempre comodo, ed e' utile.
* FeedBurner FeedSmith, anche questo e' utile… anzi, molto

* Questo separato, perché consiglio di provarlo. Clutter-Free, Praticamente nasconde alcune opzioni nella schermata quando si scrive. Alcune da me levate, giacche sono inutili per me sono "Password, Footer, Author, Excerpt, Custom Fields, … e altre". Per me sono inutili, anche voi avrete alcune che non usate, e vi occupano spazio inutile.
Cambiamento che faro piano piano, sarà l'integrazione di alcune categorie, per cosi sfruttare di più le tag, anche esse native di 2.3.
PS: L'auto salvataggio, e' miracoloso. (prima usavo un plugin per quello)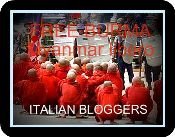 Help the People of Burma (Birmania) — Post this Meme on Your Blog!
Note: This is a new kind of online protest that uses blogs to spread a petition globally. To participate, just add your blog by following the instructions in this blog post.
This not an issue of partisan politics, this is an issue of basic human rights and democracy. Please help to prevent a human tragedy in Burma by adding your blog and asking others to do the same.
By passing this meme on through the blogosphere hopefully we can generate more awareness and avert a serious tragedy. As concerned world-citizens this something we bloggers can do to help.
How to participate:
1. Copy this entire post to your blog, including this special number: 1081081081234
2. After a few days, you can search Google for the number 1081081081234 to find all blogs that are participating in this protest and petition. Note: Google indexes blogs at different rates, so it could take longer for your blog to show up in the results.
THE SITUATION IN BURMA AND WHY IT MATTERS TO ALL OF US
There is no press freedom in Burma and the government has started turning off the Internet and other means of communication, so it is difficult to get news out. Individuals on the ground have been sending their day-by-day reports to the BBC, and they are heartbreaking. I encourage you to read these accounts to see for yourself what is really going on in Burma. Please include this link in your own blog post.
The situation in Burma is increasingly dangerous. Hundreds of thousands of unarmed peaceful protesters, including monks and nuns, are risking their lives to march for democracy against an unpopular but well-armed military dictatorship that will stop at nothing to continue its repressive rule. While the generals in power and their families are literally dripping in gold and diamonds, the people of Burma are impoverished, deprived of basic human rights, cut off from the rest of the world, and increasingly under threat of violence.
This week the people of Burma have risen up collectively in the largest public demonstrations against the ruling Junta in decades. It's an amazing show of bravery, decency, and democracy in action. But although these protests are peaceful, the military rulers are starting to crack down with violence. Already there have been at least several reported deaths, and hundreds of critical injuries from soldiers beating unarmed civilians to the point of death.
The actual fatalities and injuries are probably far worse, but the only news we have is coming from individuals who are sneaking reports past the authorities. Unfortunately it looks like a large-scale blood-bath may ensue — and the victims will be mostly women, children, the elderly and unarmed monks and nuns.
Contrary to what the Burmese, Chinese and Russian governments have stated, this is not merely a local internal political issue, it is an issue of global importance and it affects the global community. As concerned citizens, we cannot allow any government anywhere in the world to use its military to attack and kill peacefully demonstrating, unarmed citizens.
In this modern day and age violence against unarmed civilians is unacceptable and if it is allowed to happen, without serious consequences for the perpetrators, it creates a precedent for it to happen again somewhere else. If we want a more peaceful world, it is up to each of us to make a personal stand on these fundamental issues whenever they arise.
Please join me in calling on the Burmese government to negotiate peacefully with its citizens, and on China to intervene to prevent further violence. And please help to raise awareness of the developing situation in Burma so that hopefully we can avert a large-scale human disaster there.
Adesso sono 2.3
jejeje.. comunque.. questa sera e domani.. rimetto il sito com'era…
Anzi.. meglio

Aggiornato a WP 2.2.3
Giocato molto con MySQL… anzi troppo…
E' rimasto tutto… non ho perso niente…
Unico problema… il formato del database e' cambiato…
Prima era latin1_swedish_ci
Adesso sono tutte utf8_general_ci
Con il cambiamento ho avuto un paio di probblemi con alcuni caratteri…, principalmente coreani e gli accenti…
Piano piano ripristino tutto.. e in questi giorni cambio il Theme…

Ciao ciao…
Oggi volevo scrivere un po di cose… sopratutto su di me…
Ma poi tra una cosa e un'altra, tra una chiaccherata con un amico, e una letta su qualche pagina, puff… si e' fatto tardi…
L'idea mi resta in mente… se posso, voglio poterla scrivere in questi giorni

Ma alla fine… mi contraddico sempre.
Dopo una pausa di 2 giorni, ritorno a lavorare, non con tantissima voglia (sono stanco)…
Meno male che e' rimasta poca gente in giro, questi giorni dovrebbero essere molto più tranquilli a quelli precedenti… speriamo…
Anzi tutto questo e' il mio Wii "Agaponeo 4042 4305 1386 0462"
Adesso ho un Wii, e sono molto contento… giocando molto e divertendomi molto, con gli amici e con il mio amorino…
Fatto sta, adesso sto cercando altri che abbiano il Wii, cosi da registrarli e ogni tanto fare qualche partitina

Per adesso ho solo:
Wii Sport
Wii Play
Big Brain Academy for Wii
Pian piano che ho altri giochi, faro una pagina apposita per listarli

Il mio nick come sempre e' "Agaponeo"
Il mio Wii code e' "4042 4305 1386 0462"
Alcune Wii Tags che mi piacciono